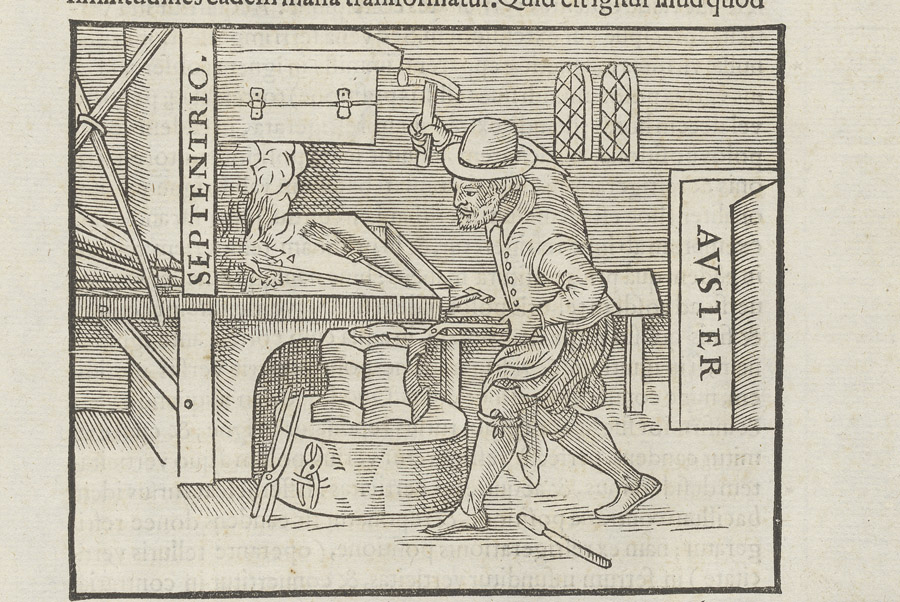 Iron will obtain north-south direction when it is hammered and heated properly: "Let the smith stand facing north, with back to the south, so that as he hammers the red-hot iron it may have a motion of extension northward." (Gilbert, De Magnete (translated by Mottelay) p. 211ff) [ZB Magnet 2] William Gilbert, De Magnete (London: Petrus Short, 1600), Zentralbibliothek Zürich, Alte Drucke und Rara, XVI.28, p. 139.
M.: Die Beschäftigung mit unsichtbaren Kräften bereitet auf die Orientierung in einer polarisierten Welt vor. Nachwievor bin ich von der Sorgfalt früherer Denker und Dichter beeindruckt, die sich nicht mit blossem Auge wahrnehmbaren Kräften beschäftigt haben.
J.: Gewöhnlich nicht wahrnehmbar ist das Leiden der Flüchtlinge, der Migranten, z.b. aus Pakistan, die durch den Iran, die Türkei bis nach Griechenland meist zu Fuss, manchmal mit dem Bus oder per Auto unterwegs sind, um in die EU-Staaten zu gelangen. Ich sage, dass ich nicht gut leben kann, wenn es andren schlecht geht, ich schreibe das und doch ändere ich nichts. Ich sollte das aufschreiben.
D.: Schreiben, Denken ist eine Beschäftigungstherapie, eine Form, die Widersprüche auszuhalten, die zu ändern der Mut fehlt.
H.: Die Situation in Fukushima ist ausser Kontrolle.