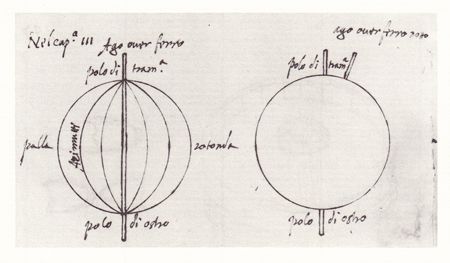 After 1558? Drawing in the translation of Peregrinus' letter made by Filippo Pigafetta (1533-1604), manuscript: Vienna, Österreichische Nationalbibliothek, published by Sturlese*, p. 94.
Die leitende Vorstellung ist dabei, dass der Himmel auch Pole besitzt. Die Verbindung zwischen dem Nordpol und dem Südpol des Himmels ist eine gerade Achse.  Neben der Achse spannen sich Meridiane sie die Sehnen eines Kreises. Der Himmel wird kreisförmig gedacht. Er dreht sich um die Achse von Nord- und Südpol. Der rundgeschliffene Magnetstein ist ein Modell des Himmels.
* Petrus Peregrinus, Epistula de magnete (a cura di Loris Sturlese). In: Opera/Petrus Peregrinus de Maricourt. Pisa: Scuola Normale Superiore, 1995.