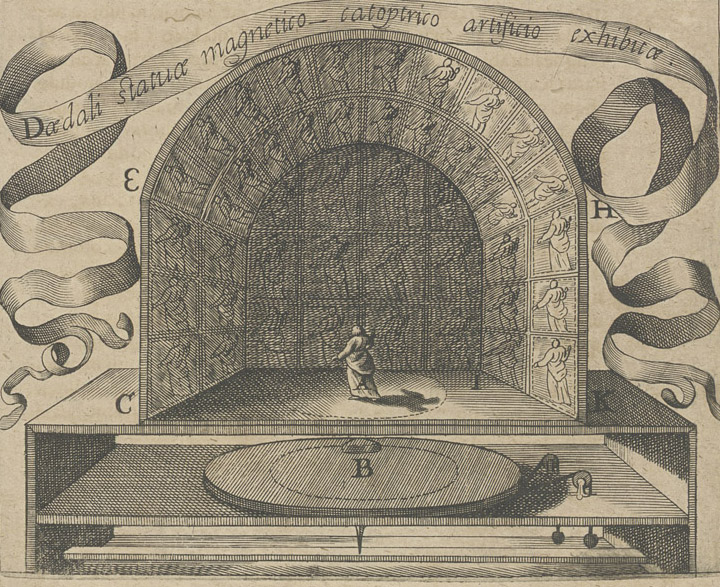 [ZB Magnet 3] Athanasius Kircher (1601-1680), Magnes sive De arte magnetica tripartium ( Köln: Iodocus Kalcoven, 1643), Zentralbibliothek Zürich, Alte Drucke und Rara, Z 113, fol. 318 (lower part).
*Description by: Joscelyn Godwin, Athanasius Kircher's theatre of the world : The life and work of the last man to search for universal knowledge (Rochester, Vt. : Inner Traditions, 2009), p. 193.
M. Plinius und Porta – zwischen ihnen legen Jahrhunderte – haben für möglich gehalten, dass Magnetsteine Statuen schweben lassen können. So zum Beispiel die Statue der Arsinoe oder Mohammeds Sarg in Mekka. Kircher lässt eine kleine Statue schweben, indem er unter ihr (versteckt-unsichtbar für die Beobachter des Schauspiels) einen Magneten platziert. An den Seiten des Schauraums sollen Spiegel positioniert werden, die die Skulptur vervielfältigen sollen.
D.: Magnete bewegen Figuren. Sie animieren. Hier werden Animationsfilme vorbereitet.
J.: Vorbereitung? Als ob die Entwicklung gradlinig vom Barock zur Walt Disney verlaufen könnte.